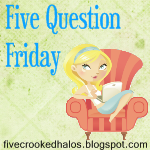 1. Have you ever testified in court? For what?
No I have never been to court at all. I'm sure I would do well in whatever kind of testimony I would have to give. But I hope that it never gets to that.
2. Do you still have your wedding dress?
Yes it is under my bed in a huge box. In a box wrapped in blue acid free paper. And my daughter has said that there is no way she would ever wear the dress so I have no idea why I am still keeping it.
3. Is there a special place you like to go when you're happy, sad, stressed, etc.?
I enjoy my quiet time taking a bath. Not getting in the tub, just listening to the water running in the tub. I have always enjoyed that sound, sort of like a babbling brook in my own house.
4. If you have kids, do they sleep with you? If you don't have kids...will you let your kids sleep with you when/if you have them?
In 18 years, my daughter has slept one night in my bed. Only because we found out she was allergic to cats and had swollen up that I was afraid for her to sleep away from me. And my husband was out of town that night. She has always had her own room.
5. Do you watch late night TV?
I usually watch the news before going to bed. I used to watch David Letterman every night through the Top 10 list, but I haven't turned the tv on in the bedroom for months. I usually have to do physical therapy every night before I go to bed, so that has taken up my late night time.