Joining up with Mrs. 4444 for Friday Fragments. Come join us.
Anyone else all Christmas music? I have it on in the car and then I have four different Pandora stations playing in my office while I'm at work.
Joyce at From This Side of the Pond started a 12 Days of Christmas Kindness this month. Please join in if you can.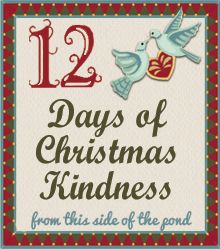 Potluck dinner with my bible study group was Thursday. This was my first try at this and I was quite happy with it. The thing I liked most was that the women were at least in a general vicinity of my age. There are a lot of young people who attend my church so it was nice to be able to be around middle aged women.
Getting my hair done this afternoon so I don't embarrass Whitney at Mom's Day Saturday at school. They are having a tea at the President's house and also her sorority has a little thing planned. Looking forward to seeing her even though she'll be home a week later for a month.
Next weekend is Christmas Spectacular at church. 7 services full of music, dance and entertainment. Last year they had a drum line and aerial acrobatics. This year we have a great dance group that I've seen on tv before on my favorite dance show, So You Think You Can Dance. I'm volunteering at 4 services and sitting and just watching one of them. If you are in Norman, you should come by!
My online shopping orders are finally starting to come in. I still have a bunch more to do but at least I have gifts. I decided to put off buying a tree. I found the one I like but since I'm not putting it out this year, I am going to wait to spend that kind of money. It is at the year-round Christmas store so I can pick it up later and not worry about them running out.