This month's Crazy Cooking Challenge was for stuffing/dressing.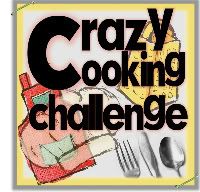 As many of you have experienced, the stuffing/dressing debate is probably one of the most hotly contested one early in a marriage. Both parties want what they grew up with (as long as their family made a good one). Lucky for us, we both came from a heavy sage/white bread stuffing legacy. There were some differences but we've melded together to create the best stuffing ever. Literally we could stand and eat the raw dressing (we don't use eggs) before we stuff the turkey.
But for the challenge I wanted to try something new. Since we normally make white bread stuffing, I thought I'd go the other way and try a cornbread recipe. So after hours of searching and weeding, I presented Dan with about 5 versions. He picked this one.
Cornbread and Sausage Dressing
Recipe courtesy of
AllRecipes.com
1 (12 ounce) package corn bread mix
1 pound sausage, cooked and drained
1 tablespoon butter
3/4 cup chopped onion
3 stalks celery, chopped
1 teaspoon dried thyme
2 teaspoons ground sage
1 teaspoon garlic powder
1 teaspoon salt
1/4 teaspoon ground black pepper
1 cup vegetable broth
Directions
1. One to two days ahead, make one pan of cornbread according to the box instructions. Let this sit out overnight and get a firm (almost hard) crust.
2. Place sausage in a large, deep skillet. Cook over medium high heat until evenly brown. Crumble, drain and set aside.
3. In a skillet, cook onion and celery in butter until soft. Remove from heat, allow to cool.
4. In a large bowl, combine crumbled cornbread, sausage, onions and celery. Add sage, garlic powder, salt and pepper. Mix well.
5. In 1/4 cup increments, add chicken or vegetable broth to stuffing mixture. Toss gently until evenly moist. Loosely stuff in fowl or casserole dish and bake at 350 degrees F (175 degrees C) for 30 minutes or until heated to 160 degrees F (70 degrees C).
We halved the recipe and it made a lot for just the two of us. My first thought was it seemed so loose compared to our normal dressing. But it was moist when I added all the broth so I didn't add anymore. The photo on the original recipe looked loose so I went with it. It didn't firm up any while cooking (as you can see from my photo). If I were to make it again, I would cut back on the sausage. I thought that it overpowered everything else. I also would add more seasoning. You have to understand that when we make our normal stuffing, we probably triple the amount of sage it originally called for. We just love that.