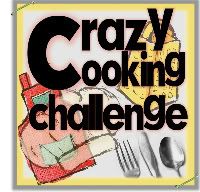 It's back! Yes, the Crazy Cooking Challenge in its year two format. You can get your recipe from anywhere, even make it up yourself. While I would not do that, I will go to Allrecipes.com to look for one.
This month is apple pie. Dan loves apple pie so much that I've actually made it for his birthday before. One of my early cooking memories when married was when I wanted to make him one. I didn't realize that paring an apple meant to peel it. Needless to say I have learned since then.
Since we are trying to cut back on calories and our normal recipe has lots of brown sugar, I wanted to find one that had none. Enter the no sugar apple pie. Dan was skeptical since he loves that brown sugar goodness but since I was cooking him a pie, he let me go for it. I don't make my own crust after the thanksgiving debacle years ago that had me breaking down in tears so I used store bought crusts. I think they taste fine.
No Sugar Apple Pie
Courtesy of
allrecipes.com
6 cups thinly sliced apples (I used gala and Granny Smith)
3 T cornstarch
1 T ground cinnamon
12 ounces unsweetened apple juice concentrate
2 pie crusts
Preheat oven to 350 degrees.
Whisk together cornstarch, cinnamon, and 1/4 apple juice concentrate.
In a saucepan over medium heat, simmer the apples in the remaining apple juice until tender. Add the cornstarch mixture and stir until thickened.
Pour into bottom crust and cover with top crust. Bake for 45 minutes.
Pretty easy. The longest part was peeling and slicing apples. The taste was very cinnamony. I would cut that back because you could taste the rawness of that much cinnamon. I really didn't miss the sugar. Dan said that if you didn't know it was no sugar you would think it had it.
I'm not the best at making my pie look pretty.
I think this would be a nice dessert to have if you have a diabetic in the family.
I wonder how many apple pie recipes people will come up with. Look at the list below to find out.
Powered by Linky Tools
Click here
to enter your link and view this Linky Tools list...