Joining up this week with Unknown Mami who has graciously accepted hosted duties while Mrs. 4444 takes a much needed summer break.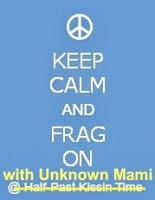 Stupid criminal this week is from West Virginia. During a home invasion the victim noticed that one of the criminals was wearing official West Virginia University sweatpants with their number on them. It didn't take long for the police to look up the football roster and figure out who the robber was. He has since been kicked off the team and is serving time for multiples offenses.
So much rain this morning and I slept through it. Guess we had more than an inch in 10 minutes. Woke up and the trash can had been swept down the street. Normally we put it in the yard next to the curb but Dan just mowed last night so he moved it into the street. Just glad it didn't go any further or it would have hit Whitney's car.
I'm just not into the dancers this year on So You Think You Can Dance. None of them are standing out to me and I'm really getting sick of some of the bias by the judges. And I never say that. Wonder what's up with that.
However I did enjoy Top Chef Masters. I love the sous chef challenge. A truly good chef is only as good as his sous.
I've been busy working on a bunch of proposals this week. The good thing is that I know that they are all getting funded. So it is worth the work.
The temporary worker I hired for my filing has gotten three huge stacks filed and has been making all sorts of folders for me. We will be organized!
I have at least one more post about China that needs to be written but lacking motivation. Maybe because so many of my pictures look the same and maybe because they are all so smoggy. Hard to get excited about smog.