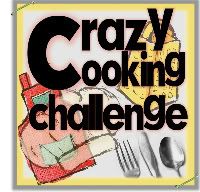 This month's CCC is Grill Cheese. Who doesn't love grilled cheese? I thought how many people actually blog about making a grilled cheese sandwich however. To me nothing beats a couple of slices of velveeta on some buttered bread that I cook on the stove. Yummy good meltiness. But that sort of defeats this whole purpose of finding a recipe on the same topic as about 100 other bloggers and making it. So I had to think...what kind of grill cheese recipes could I find. After much thought it came to me...PANINI. We love paninis, having our first one in Paris many years ago. There was just something comforting in being in a foreign country and having a taste of home...well at least familiar flavors if in a somewhat different package. So I went on a quest for recipes for paninis that have cheese in them. The only requirements this month: bread, cheese and hot.
It was a struggle initially to find recipes. Seems like I haven't quite figured out how to search multiple blog sites at the same time but I do know have an infinite number of blog sites. So this is just time consuming. I found several I liked and I knew that this would be one that Dan could get into. I gave him several choices and we are actually making a couple of them. Normally when we make paninis at home we just use good sourdough bread slices with deli meat and cheese.
The recipe I chose was from Jennifer at
Mother Thyme
and her Parmesan Grilled Cheese Panini with Basil Pesto Dipping Sauce. While researching, this was the first recipe I found. It actually was the one I wanted to make most but we made another one first (which was tasty). I ended up making this for a night when I was eating by myself and I'm so glad I did. Jennifer said it was the best grilled cheese she ever had and I have to agree. It was PERFECT! This recipe made me say "This is what I've been waiting for in the CCC!"
I only made one small change and I can't wait to make it again. This will definitely be my go-to grilled cheese sandwich.
Butter spray (like Olivio or if you prefer spread bread lightly with regular butter or brush with extra virgin olive oil)
4 slices fresh bakery Italian bread
4 slices provolone cheese (or if you prefer mozzarella or cheddar)
2 tablespoons grated Parmesan cheese
Spray non-stick cooking spray on panini maker or non-stick skillet and preheat over medium heat.
Lay out bread slices on a large platter, cutting board or plate. Spray, butter or brush each side of the bread. Sprinkle with grated Parmesan cheese and a dash of salt and pepper on each slice. Place two slices of cheese and place on one slice of prepared bread. Top with remaining slice.
Place on preheated panini or skillet and cook until bread is toasted and cheese is melted.
Sprinkle top with a little more Parmesan cheese. Serve warm with a side of basil pesto.
The only change I made was I used sourdough bread instead of Italian (because its all I had). It only took a couple minutes to cook because the cheese melts so fast. The cheese got gooey without being messy. I had basil pesto already made so I didn't make her recipe. You could eat the sandwich either with or without the pesto. I think I'm drooling as I type this it was so good.
Check out fellow bloggers recipes: