I've wanted to do a cooking challenge blog for so long. Unfortunately I don't have enough recipes to qualify for Secret Recipe Club. And then I found the holy grail of cooking challenge blogs: CRAZY COOKING CHALLENGE. Basically once a month people cook the same kind of recipe that they found on someone else's blog and then post about it. You don't have to have a lot of recipes on your own blog. This is something I could do. So I signed up for it this month and was so lucky that it was a topic that I like: Spaghetti with Red Sauce. I have so many good recipes for red sauces but the whole purpose of this was to find something new. I spent a week going over other people's blogs to find a bunch of recipes. I'm still learning how to find food blogs so it took awhile. And then I needed to get Dan to agree to one of them.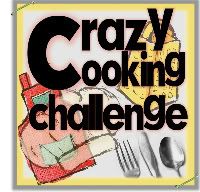 Spaghetti with Meat Sauce
The recipe I chose was
Mom's Spaghetti Sauce
by Isabelle at
Crumb
. I liked it because it had bacon and ground beef. All of the red sauce recipes that I have don't have any meat so I thought this would be a good change.
6 slices bacon, chopped
2 tbsp olive oil
2 lbs lean ground beef
2 medium carrots, diced
1 small fennel bulb or 2 stalks celery, diced
1 large onion, diced
3 cloves garlic, minced
2 cups dry red wine
2 cans (796 ml each) pureed tomatoes
3 tbsp tomato paste
2 bay leaves
1 tsp dried oregano
1 tsp dried basil
1 tsp hot pepper flakes (optional)
In a large heavy-bottomed pot, fry the bacon in olive oil over medium-high heat until crisp. Add ground beef and cook for 10 minutes, breaking up into small chunks with a wooden spoon as it cooks, until browned. Using a slotted spoon, transfer the ground beef to a bowl and set aside.
Add carrots, celery, onion and garlic to the pot, and saute for 10 minutes or until onion is soft and translucent. Return ground beef to the pot.
Stir in the remaining ingredients, and bring the mixture to a boil. Reduce heat to low and simmer, stirring occasionally, for 45 minutes.
Ladle sauce onto cooked spaghetti and serve with a scattering of grated Parmesan cheese.
Ingredients (Pinot Noir was the wine)
I halved the recipe because I knew this would make a lot. I was surprised it didn't have any salt in it and the amount of seasoning seemed small but I follow recipes to the letter the first time I try them. We cooked it just like it said (I used celery and not fennel) and then tasted it after it simmered for 45 minutes. BLAND just like we were afraid of. I think we added another teaspoon of basil, oregano, salt and some garlic powder to get it to taste like anything. It had a good consistency, nice and thick. But since we had to add more seasoning we needed to cook it longer so we had to add some water. We like our spaghetti to have the sauce mixed in so we added some to our cooked spaghetti. After putting it on the plates, I added a little more sauce to the top.
The leftovers tasted better than the original, maybe because the flavors melded together in the fridge.

The good thing about this is I found a great cooking challenge and I can't wait for next month's version. Hopefully I'll get better at finding food blogs and I'll find so many recipes I can't wait to try them all! Check out all the great recipes other people cooked by visiting the sites listed below. I know I'll be looking at them!