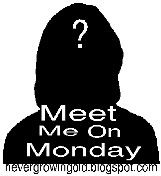 Questions:
1. Did you watch the Superbowl?
I always watch the Superbowl but have it on the DVR so I can fast forward the game and just watch the commercials. So far Doritos licking fingers wins hands down.
2. What is the last book that you read?
Some trashy cheap romance novel. I have no idea what the name of it was but since they are all the same it really doesn't matter. I like to read these books when flying because it is mind-numbing, just like flying.
3. What is your favorite kind of cake?
This is probably the hardest question ever. In my youth, I would have said German Chocolate Cake. I always had it for my birthday. I also love some deep chocolate cakes that a local bakery has but they are too rich for me now. I love carrot cake (the cream cheese frosting is divine). So how can I choose. I therefore choose all of the above.
4. Do you snore?
Only when I have a terrible cold and lay flat on my back. I swore I would never marry a man who snored because because I would never be able to sleep. I was successful in that so I get good night's sleep every night.
5. Do you play an instrument?
I took piano lessons when I was a kid but haven't played an instrument since I was 13. My husband picked up the guitar around 40 but I never play them because my nails get in the way.