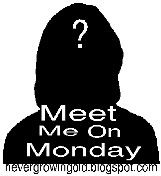 OK, today I'm participating in the Meet me on Monday blog hop from Never Growing Old.
Questions:
1. What do you put on your hot dog?
2. Do you play Sudoku?
3. What is your favorite vegetable?
4. Do you color your hair?
5. What is your favorite brand of clothing?
I don't have a favorite brand. I hate shopping, probably own enough clothes to get through one-two weeks of work without repeats. But I would say a good pair of Levi jeans always makes things look good.