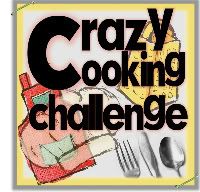 After taking a couple of months off from the challenge, I had to rejoin when I heard the recipe of the month was cheesecake. I love cheesecake even if it doesn't love me. Who can resist all that creaminess and so many different toppings/flavors? All you have to do is look at the cheesecake menu at The Cheesecake Factory and you know what I mean.
Of course with it being the hottest part of the year (100+ temperatures...yuck) and a baked cheesecake takes at least an hour to cook, I decided to make a no-bake one. I would so love to try my hand at baking one again. My last attempt didn't turn out at all like the picture in the recipe (
Pumpkin Cheesecake
) but it was still tasty. But I wanted no-bake. After consulting with my dessert expert (Whitney) we decided we wanted an oreo cookie cheesecake. If I'm going to eat all those calories, by golly I'm going with something that has chocolate in it. And who can pass up an Oreo? It is after all the 100th anniversary of that cookie.
I searched all over the place for a recipe. I did find one that looked delicious but my goodness the amount of steps and stovetop cooking needed to make it just made me look elsewhere. Since the rules changed last month about being able to use a recipe from anywhere, I went to the Kraft website. (I know I took the easy way, but I'm serious about not turning my oven on for 2 months). There I found a recipe that looked easy and delicious. So I made it.
No Bake Oreo Cheesecake
(recipe from
Kraft Foods
)
9 OREO Cookies, divided
1 tub (8 oz.) COOL WHIP LITE Whipped Topping, thawed, divided
1 pkg. (8 oz.) PHILADELPHIA Neufchatel Cheese, softened
1/2 cup sugar
1 cup vanilla low-fat yogurt
1 OREO Pie Crust (6 oz.)
HALVE 4 of the cookies; reserve for garnish. Finely chop remaining cookies; set aside. Remove 1 cup of the whipped topping; store in tightly covered container in refrigerator to use as a garnish.

BEAT Neufchatel and sugar in large bowl with electric mixer on medium speed until well blended. Add yogurt; mix well. Gently stir in the remaining whipped topping and the chopped cookies. Spoon into crust.
REFRIGERATE 3 hours or until firm. Top with the reserved whipped topping and cookie halves just before serving. Store leftover pie in refrigerator.
So the changes I made to the recipe was I used a chocolate pie crust. I couldn't find a oreo one. (I think the oreo one would have added something so if you have one, use it). I also put all of the cool whip into the cream cheese mixture and didn't keep any out. I think it helped make the filling a little lighter. We also used the reduced fat oreos. I had no idea they made so many different types of cookie now.
I figured out the calories of one slice (1/8 of the pie) was 375. Which for a cheesecake isn't too bad.
Our overall impression was that it was tasty but we missed a real cheesecake's density and flavor. It had a tang to it but not as pronounced as when you use real cream cheese. I did appreciate that it was cold and didn't heat my house up to make.
Let's go see what other delights people came up this month!